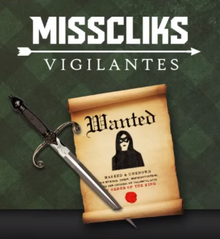 The cast play a group of Vigilantes. A group of solders return from a war, to find their homeland has grown corrupt & overtaxed. This group of reluctant heroes set out to fix the wrong of their land.
Cast
Neal 'Koibu' Erickson - DM
Anna Prosser Robinson - Twins (Tamsin/Landcaster)
Geneviève 'livinpink' Forget - Alexis
Stephanie "Miss Harvey" Harvey - Soli
Samantha 'Suushisam' Weaver - Rocker
There is more cast members that rotated in, but I haven't properly researched who is in what episode yet. Sorry.
Episodes