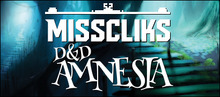 In this high-fantasy story, a group of people wake up together in the back of a wagon with no memories. Why are people out to kill them? Who are they? Where do they come from? What are even their names? Together they will find out.
Cast
Neal 'Koibu' Erickson - DM
Anna Prosser Robinson - Tree (changes names frequently)
Stephanie "Miss Harvey" Harvey - Cloud
Geneviève 'livinpink' Forget - Bunny, Glib Glob
Jess Brohard - Victoria
Angelina DiFiore - Waterdance
Episodes
Episode 1: Down the Rabbit Hole

In the back of a wagon bound for the Duke of Blades, four people wake up, having all lost their memories of who they are.
Episode 2: There And Back Again

In the Gnome Homeland, Gunderfunk, the group try to find out who they are by have the things they are wearing identified.
Episode 3: Midnight In The Garden Of Good And Evil

The group on the road eastward when encounter a snake that can speak common. It offers to test if any of them is secretly a Princess, but they must be bitten first...
Episode 4: The Mists of Elf-Wood

The party continues east and find themselves shrounded in mist and end up in quicksand.
Episode 5: Smoke and Mirrors

The party reunited, try to keep heading east, and happen across magical instruments playing themselves and a raven watching.
Episode 6: Under The Log

With the identities of most of the party coming to light at the end of last episode, they are dealing with the ramifications and just exactly what it means to be these people. And who is hunting them.
Episode 7: Finale